The trusted WordPress hosting SaaS platform for agencies and developers.





How does Staq save you time and money and improve your WordPress management?
Staq replaces these plugins, services and processes:
❌ Your hosting provider
❌ Server management
❌ Checklists for deployment
❌ Cloudflare (business plan) and APO
❌ Manual processing of hosting invoices
❌ Passwords in spreadsheets
❌ SSL deployment and renewal
❌ ManageWP
❌ Imagify
❌ Updraft
❌ WP Rocket, Nitropack & Autoptimize
❌ Wordfence
❌ Smush
❌ cPanel
Preconfigured AWS WordPress setup
In our 60 second WordPress site spin up, your new site is automatically optimized and preconfigured on Amazon Web Services with the following services:
✅ site deployed on an EC2-Instance
✅ S3 bucket to store both original and optimized images separately
✅ Lambda function to optimize images and convert them into WebP
✅ Route53 for DNS (accessible via Staq)
✅ 1-click deployment to CloudFront (CDN)
✅ Shield when you enable Staq Next-Gen CDN
The outcome?
Everything is managed from 1 platform
The one platform that replaces all these services, plugins and processes mentioned above to save you time, money and most importantly, provide a headache-free WordPress experience.
Win back time managing WordPress with a headache-free WordPress hosting SaaS platform.

Create a WP site in 60 seconds
With minimal clicks, you can spin up a new WordPress environment in around 60 seconds, including installing your must-use WordPress plugins.
REPLACES: Hosting Services that offer 1-click install, SpinupWP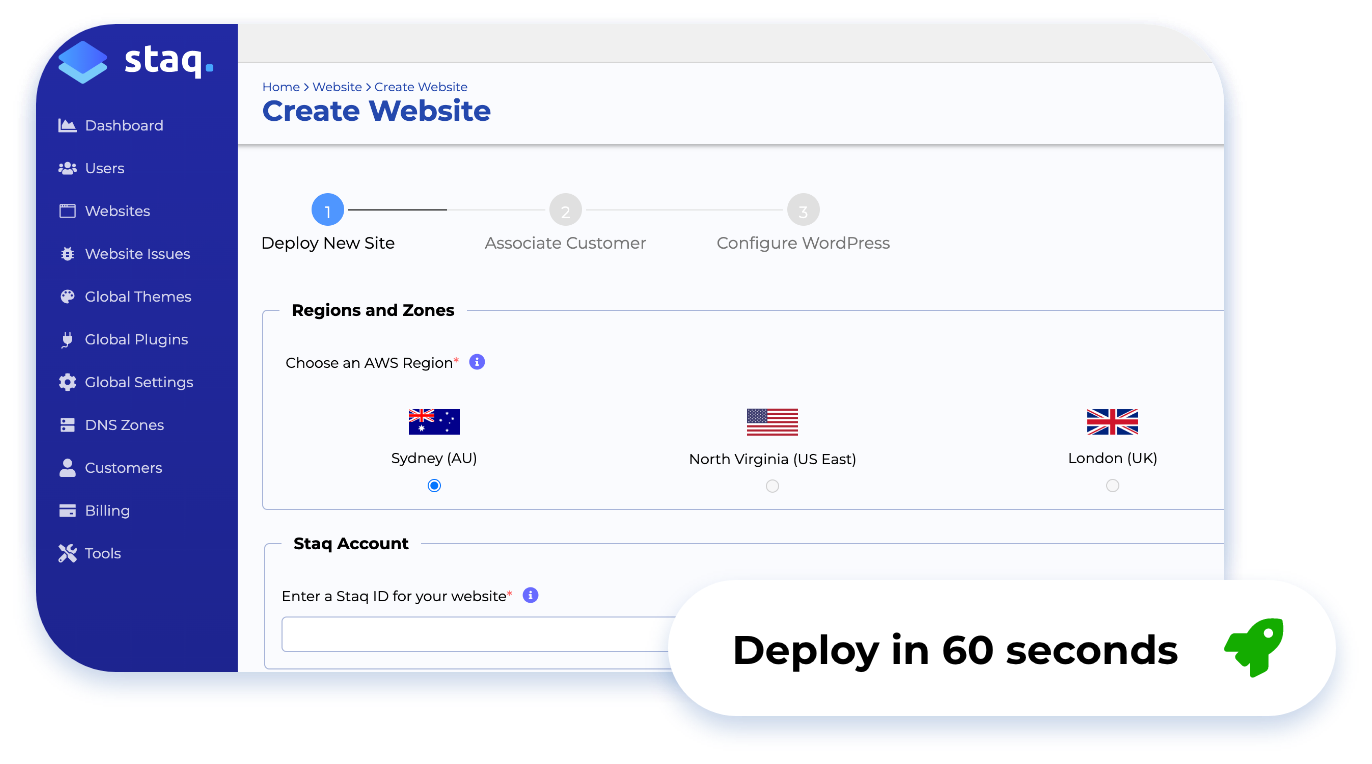 Automated Migration Tool
With minimal clicks, you can automatically migrate an existing WP site to Staq without any experience. It will automatically deploy on Staq as a staging URL.
REPLACES: All-In-One-Migration, Duplicator, BackupBuddy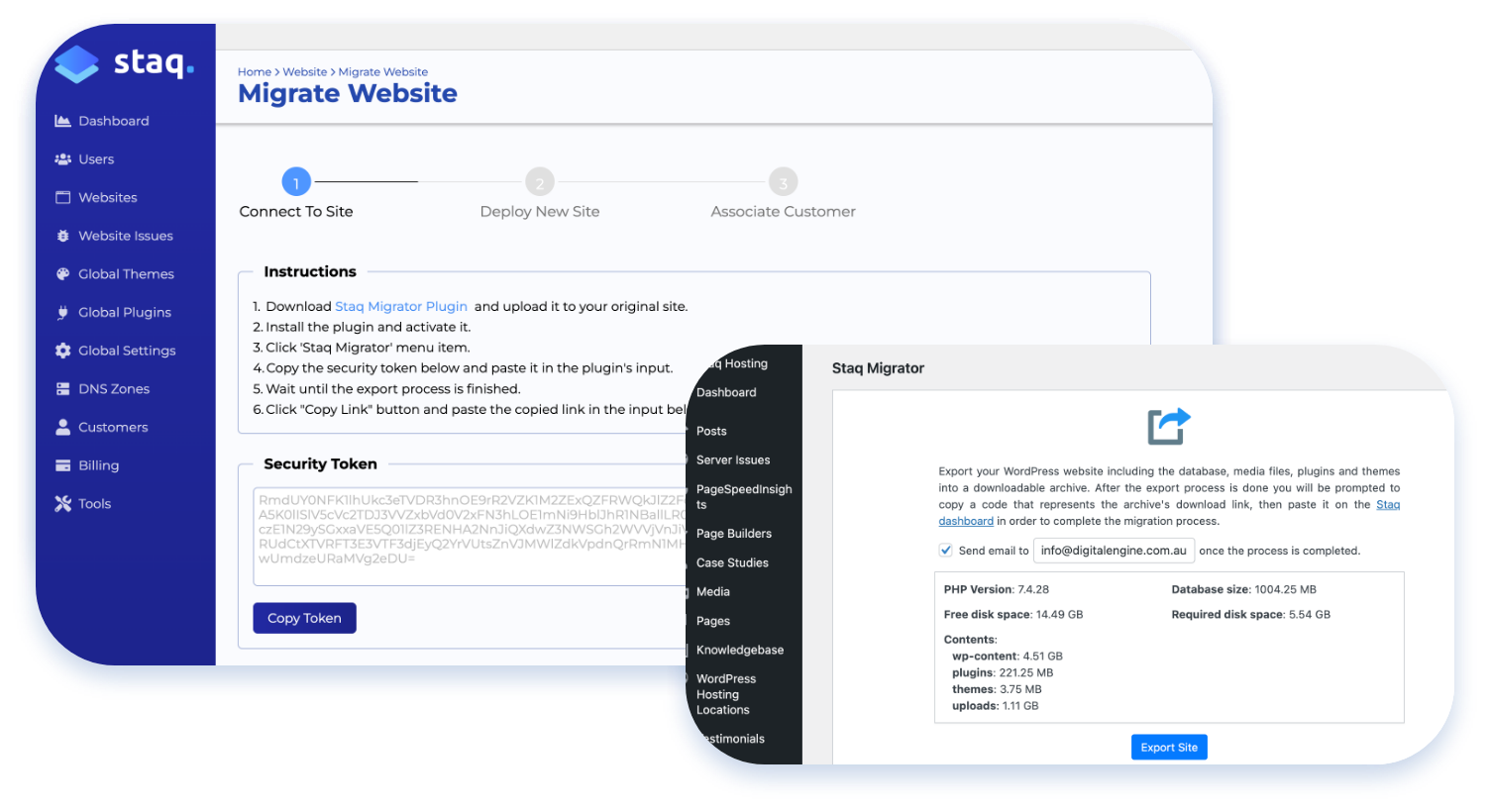 Manage User Permissions
Create users with full access or partial access to services inside the Staq interface. See user activity of setting changes inside the Staq interface.
REPLACES: cPanel and your inefficient process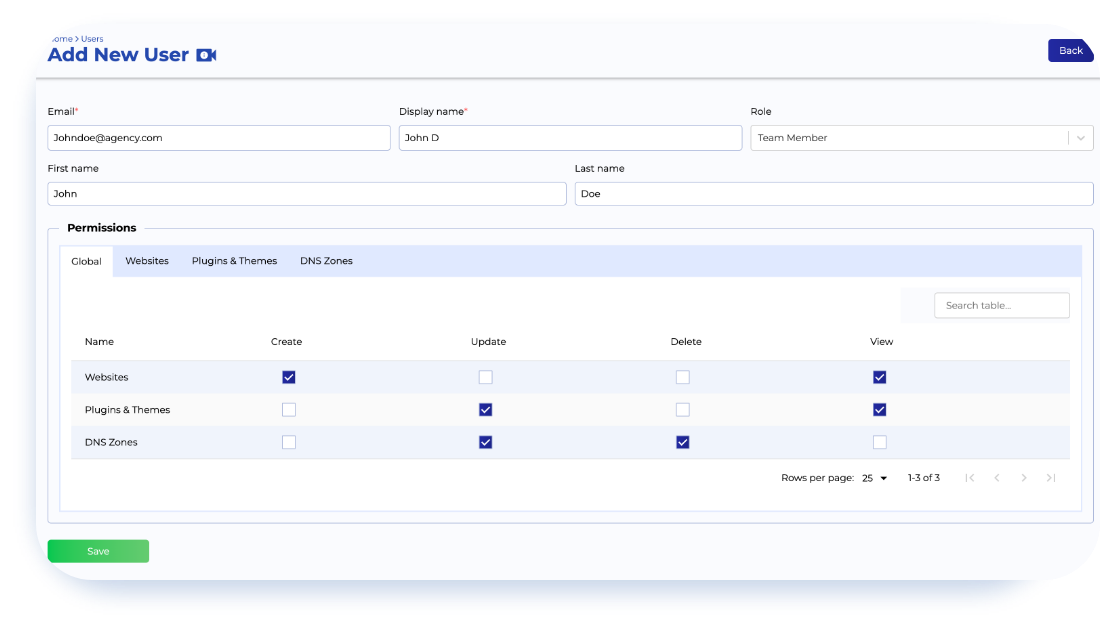 Up to 90 days free hosting
When you create or migrate a site to Staq, you get up to 90 days of free hosting. You pay when you go live or when 90 days are up, whatever comes first.
REPLACES: Your local environment
Go-Live in 2 minutes
Effortlessly take a site live in 2 minutes. Everything from DNS import, changing database URLs, SSL certificate and changing index status for search engines.
REPLACES: your manual process that takes time, SSL services, database replace services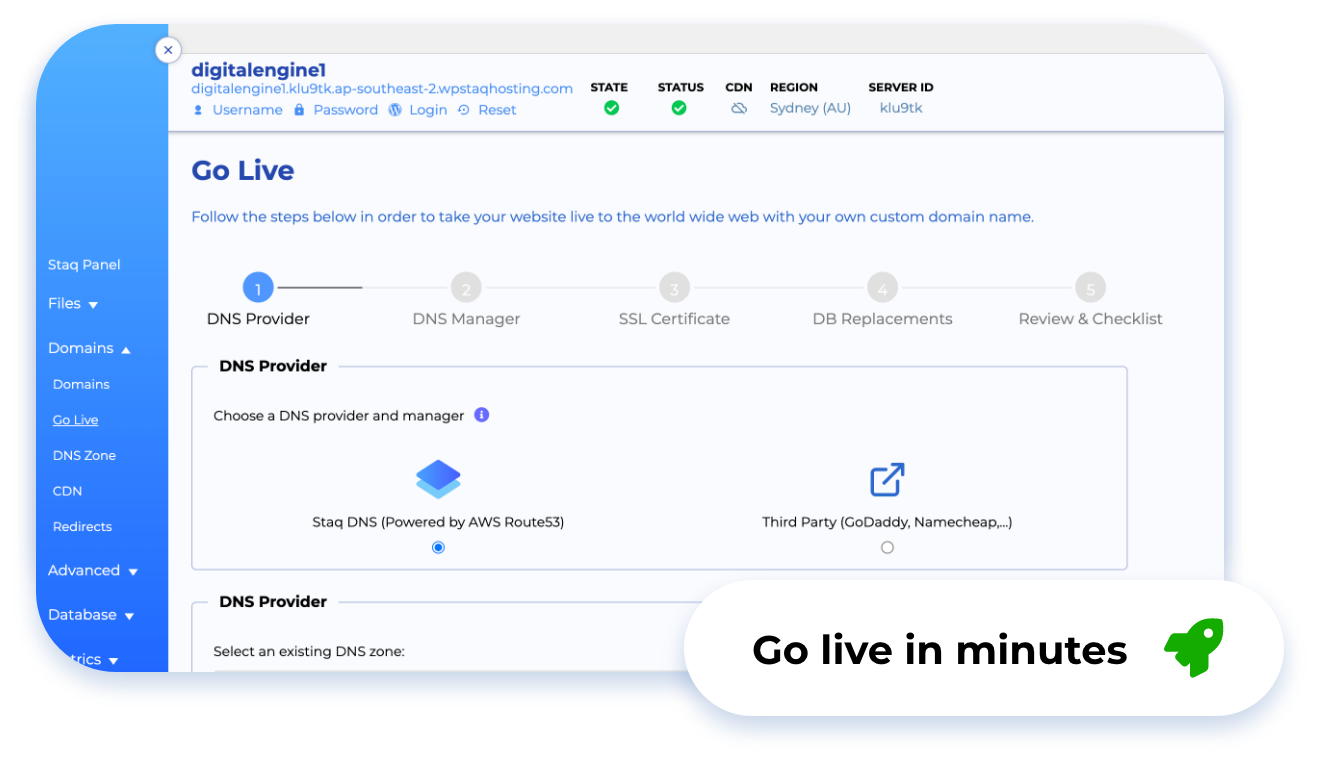 Premium DNS by AWS
A premium and fast DNS service that integrates with AWS Route53 DNS. Much secure and faster and centralized inside the Staq interface.
REPLACES: Cloudflare, and all DNS services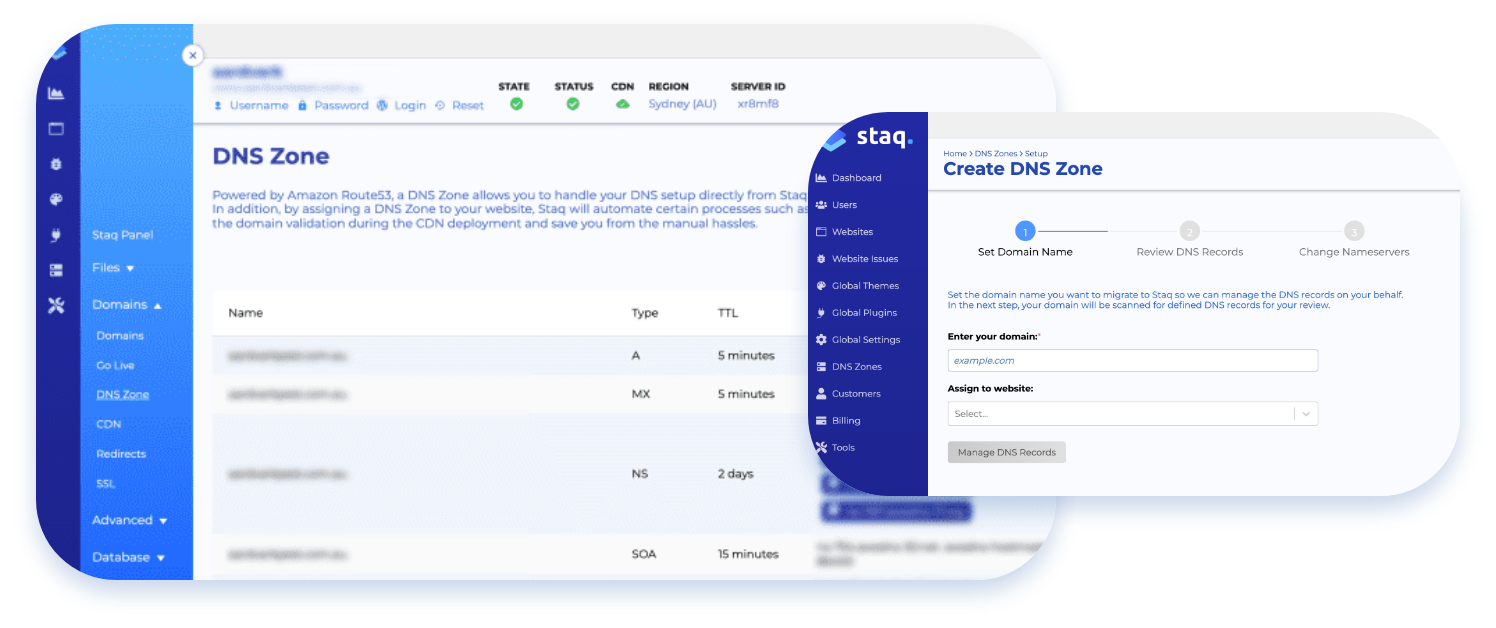 Enable CDN in 1-click
Fully configured CDN service that deploys to AWS CloudFront. The most integrated CDN service for WordPress.
REPLACES: Cloudflare, Fastly, Stackpath, BunnyCDN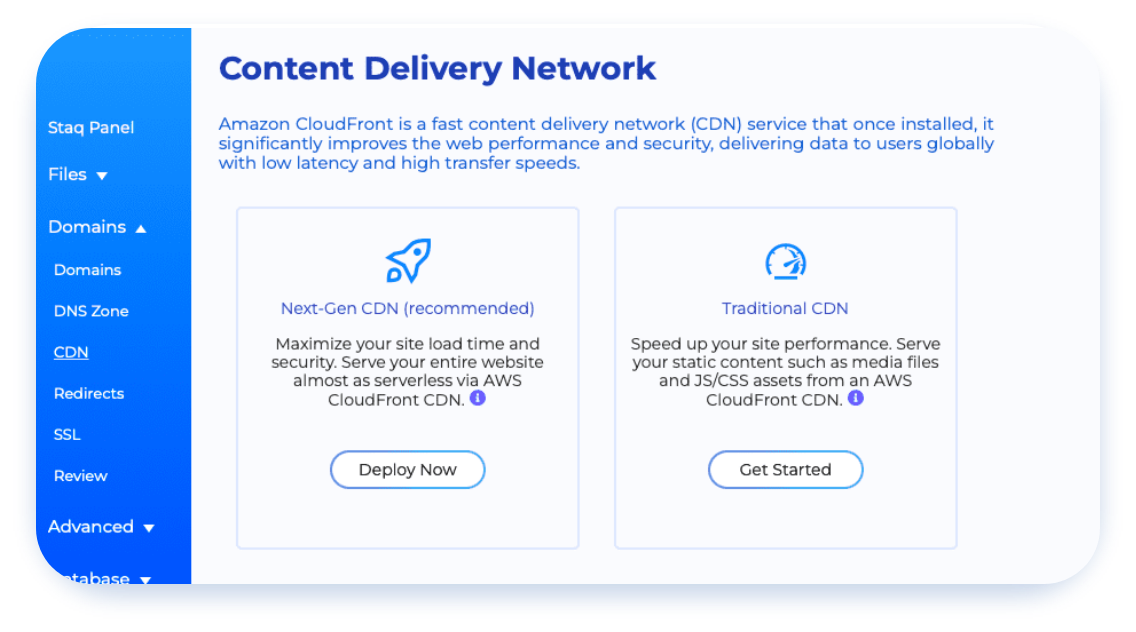 Free, Automated SSL
Using Let's Encrypt, Staq has fully automated the creation and renewal process for SSL certificates.
REPLACES: Let's Encrypt, and all SSL certificates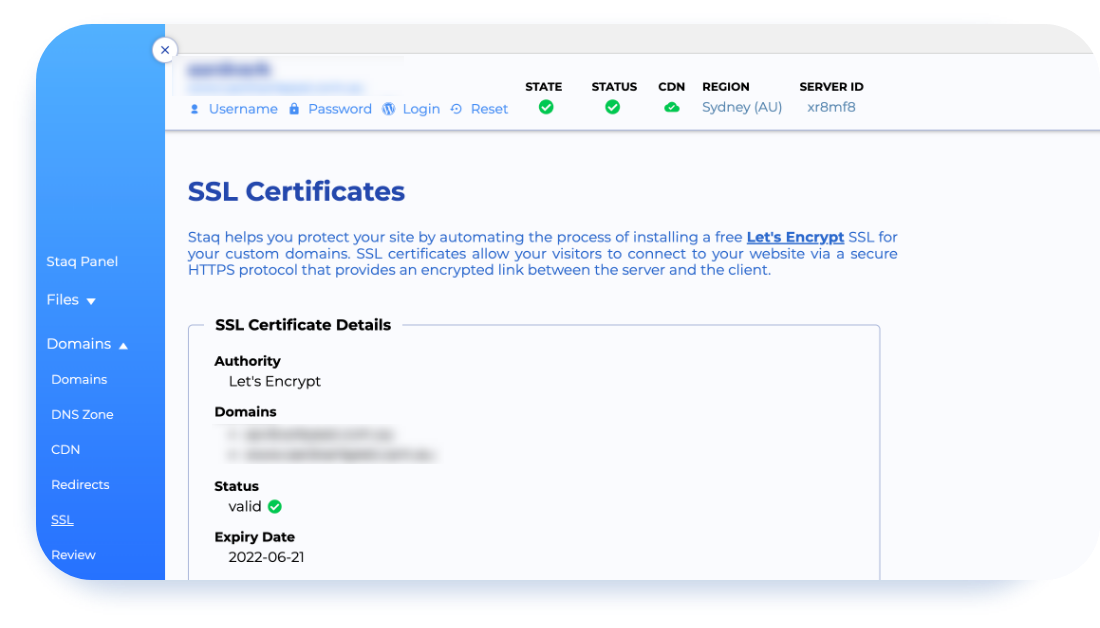 WordPress Management, Centralized
All your WP sites in 1 table
Access and manage all your WordPress sites in one table.
REPLACES: ManageWP, MainWP, InfiniteWP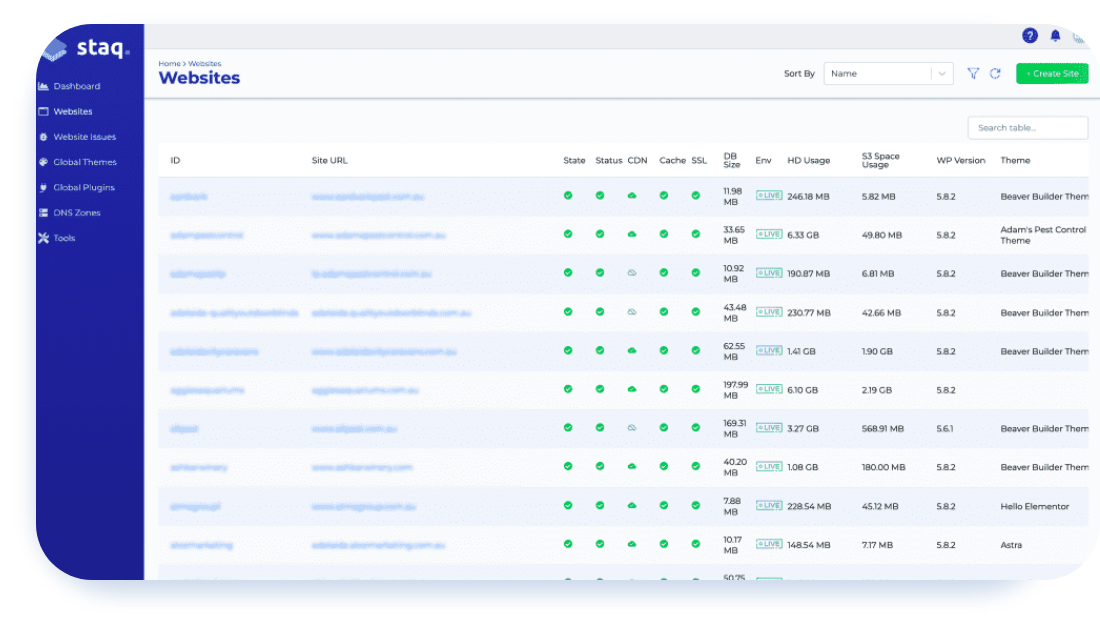 Monitoring
Staq receives real-time updates if any sites have issues. However, in your dashboard, you can see the health status of each site from website, SSL, CDN, Cache and etc.
REPLACES: Third-party monitoring services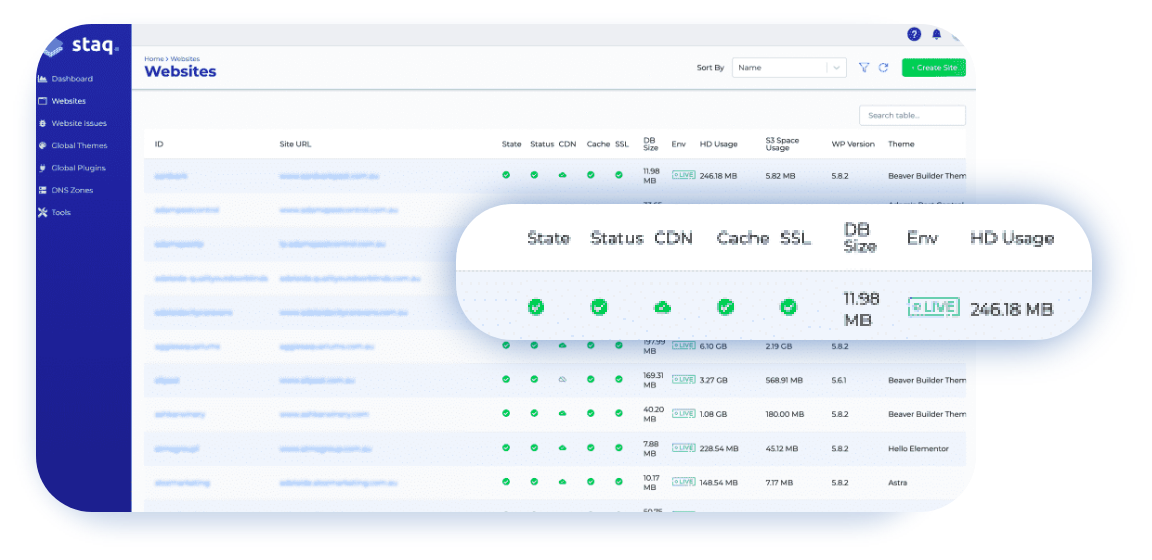 Staq Panel
A replacement to cPanel; built specifically around the experience of AWS services, WordPress and NGINX settings for a more efficient experience.
REPLACES: cPanel, Plesk
Password Manager
Effortless retrieval of WordPress password in one-click. Reset the password with ease as well.
REPLACES: Spreadsheets, Password applications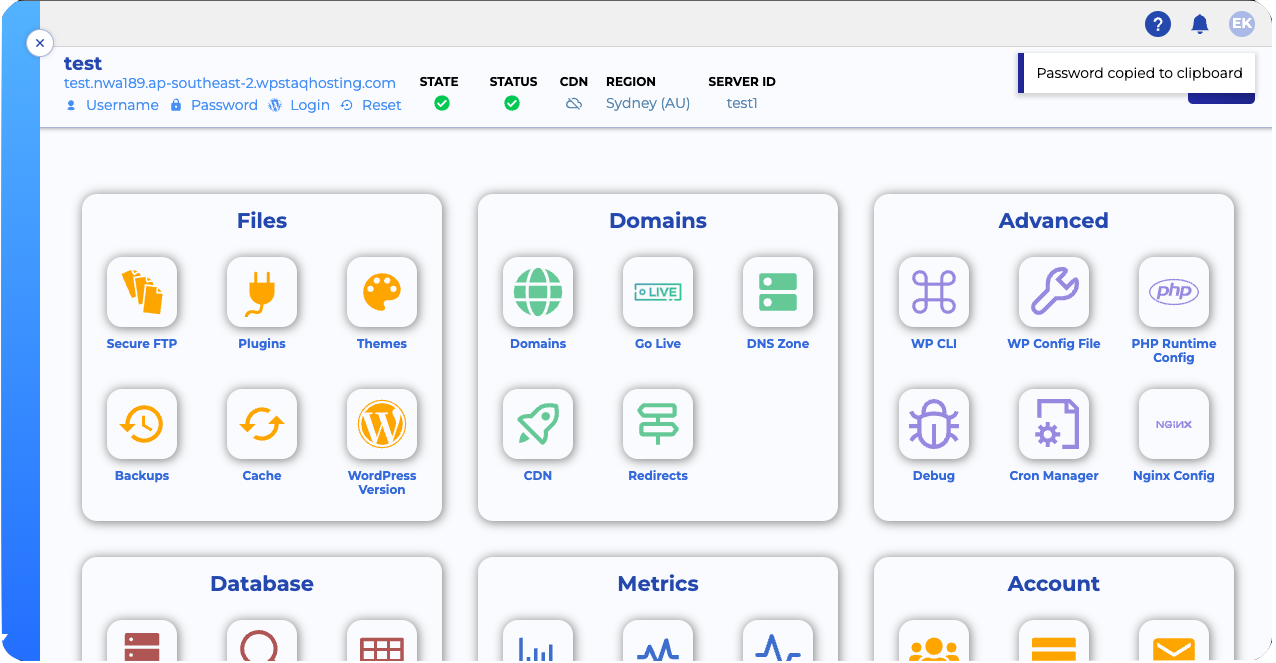 Built for Core Web Vitals
We've developed a caching and optimization tool that rivals the leaders. Optimize JS, CSS, images, fonts and DOM size (plus more) in an easy-to-use plugin built to enhance your Core Web Vital scores.
REPLACES: WP Rocket, NitroPack, Autoptimize, Imagify, ShortPixel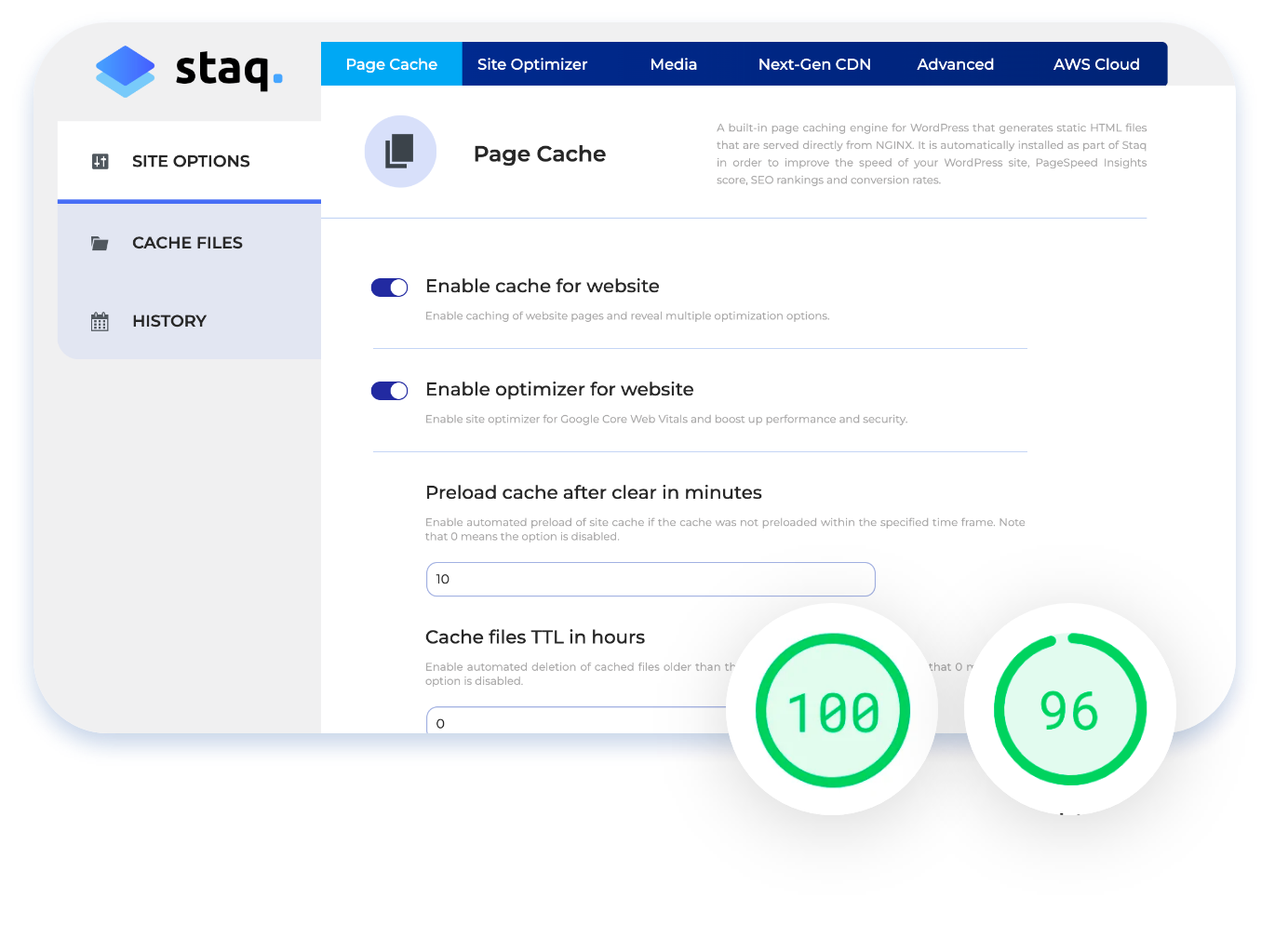 Image Compression
Automatic image compression for png and jpg occurs out of the box!
REPLACES: ShortPixel, Smush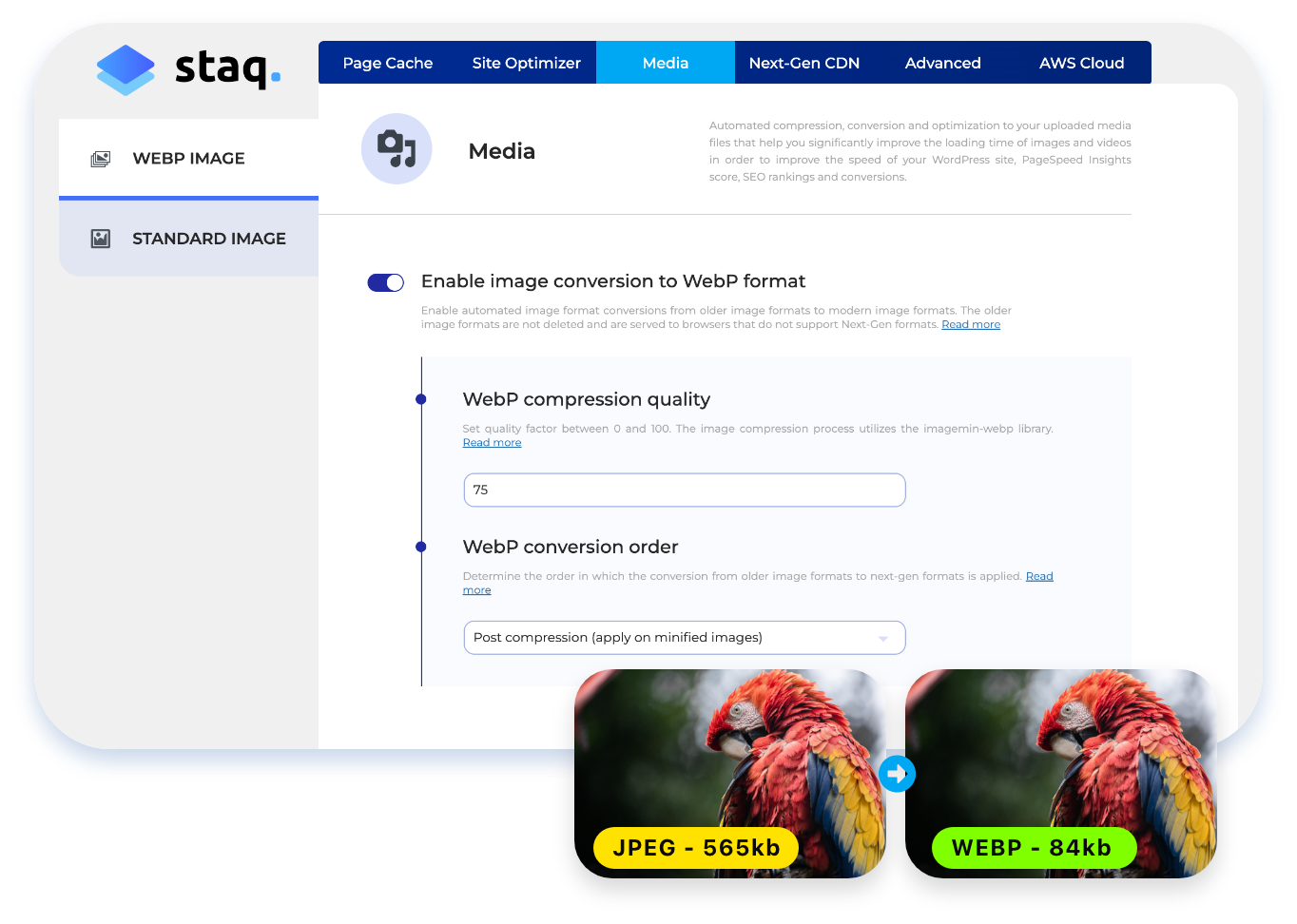 WebP
Enable WebP in 1 click with Staq.
REPLACES: NitroPack, Imagify, ShortPixel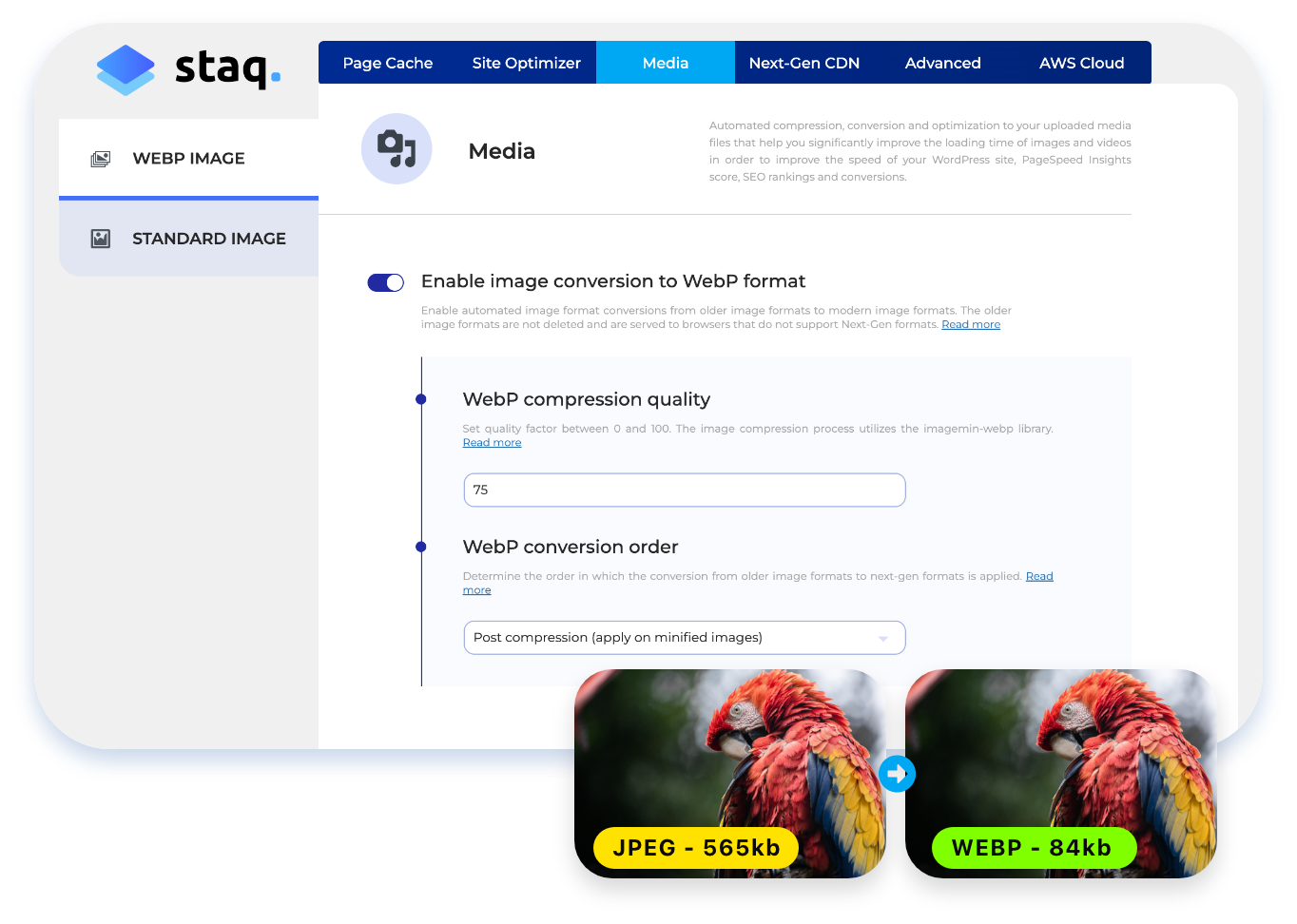 The Fastest Configured CDN
Staq has integrated its Core Web Vitals optimizer and integrated it into AWS CloudFront, offering the most integrated experience and the fastest possible website load times with most traffic served as serverless traffic.
REPLACES: Cloudflare APO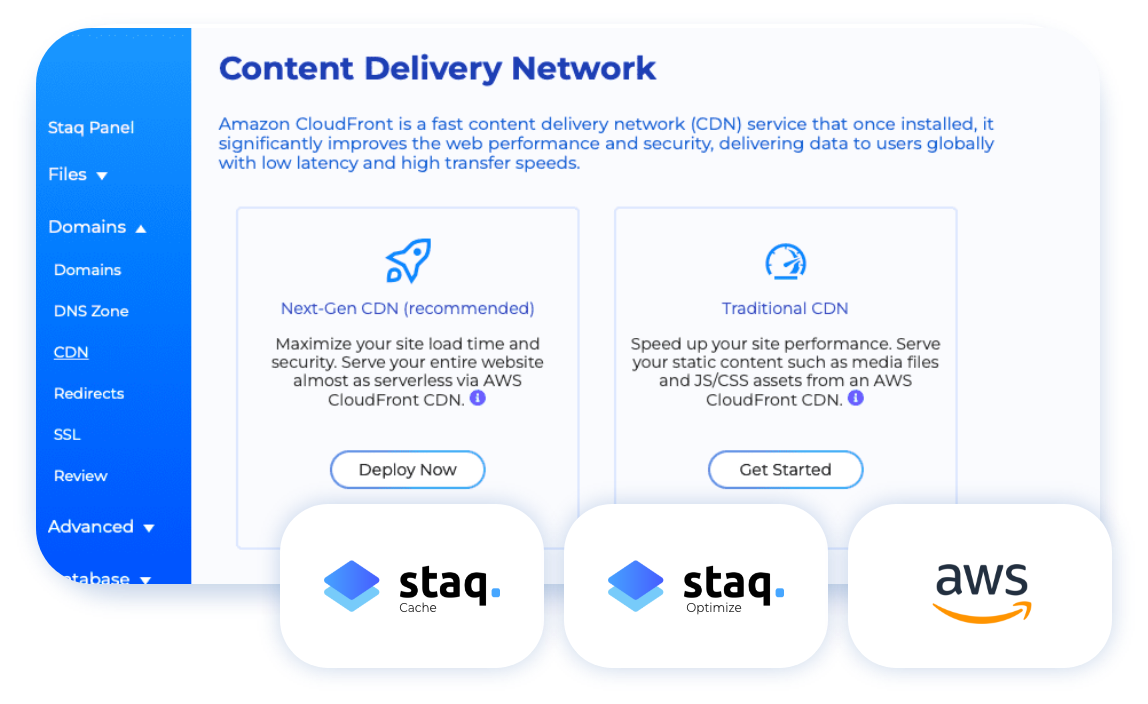 Plugins/Themes Manager
Upload and manage your plugins and themes inside a single repository. Update once and update across all site in one hit. Install plugins for a specific website and bypass the manager.
REPLACES: ManageWP, MainWP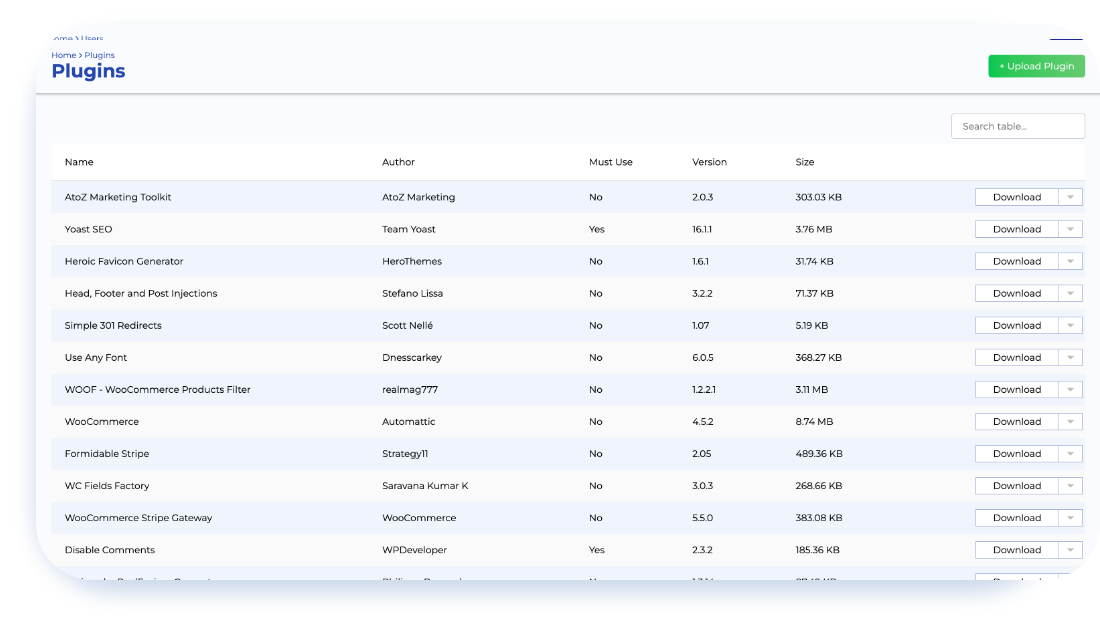 Reports at Scale
Run reports and see if any sites have PHP issues as a result of bulk plugin/theme updates.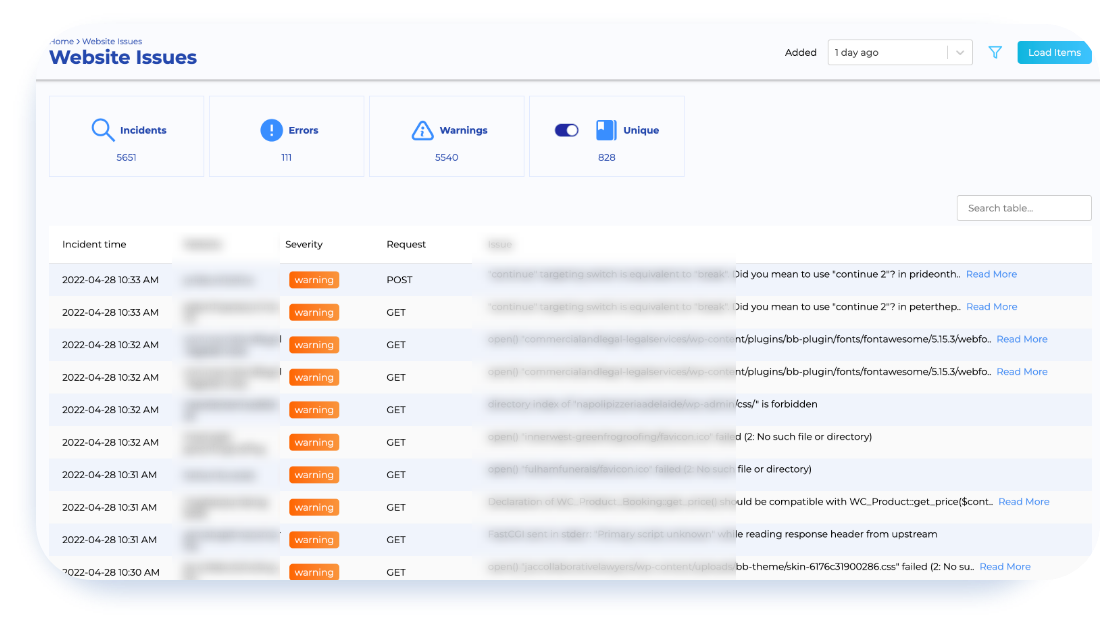 Where WordPress and AWS Meet
Staq is built on top of the Amazon Web Services (AWS) platform for reliability, quality and scalable WordPress Hosting.
REPLACES: All other Hosting Services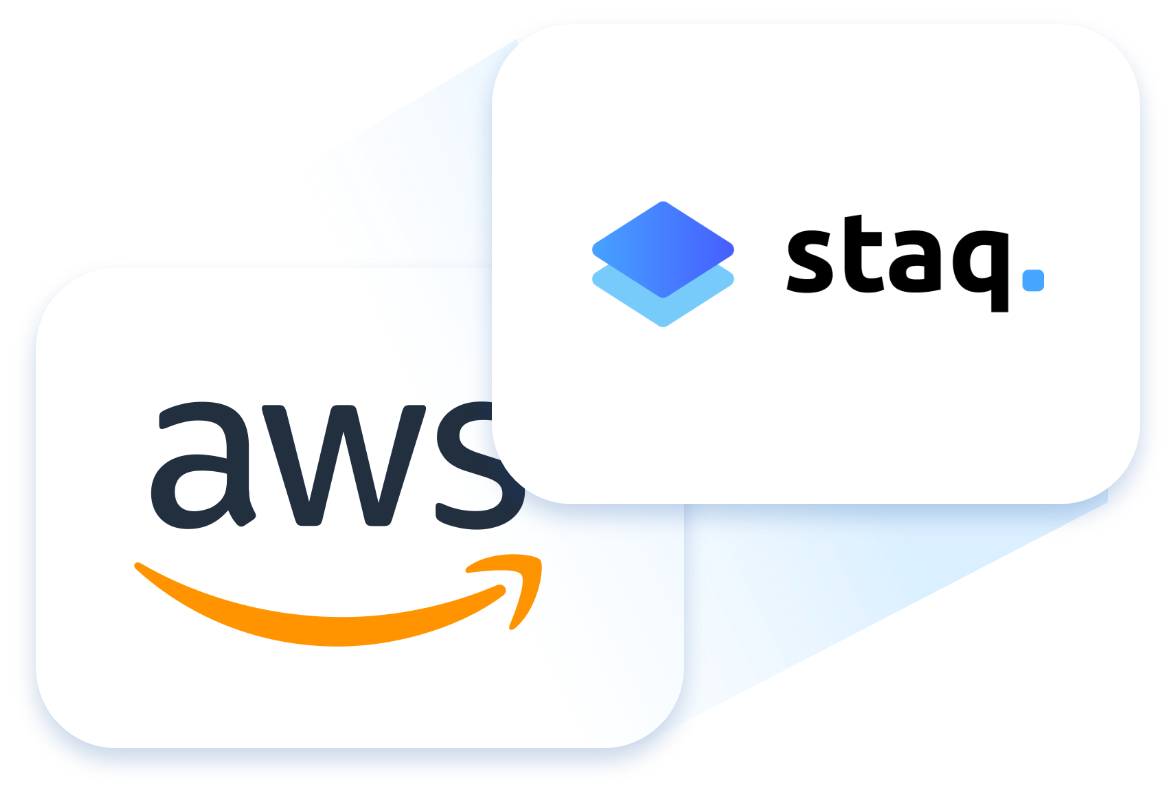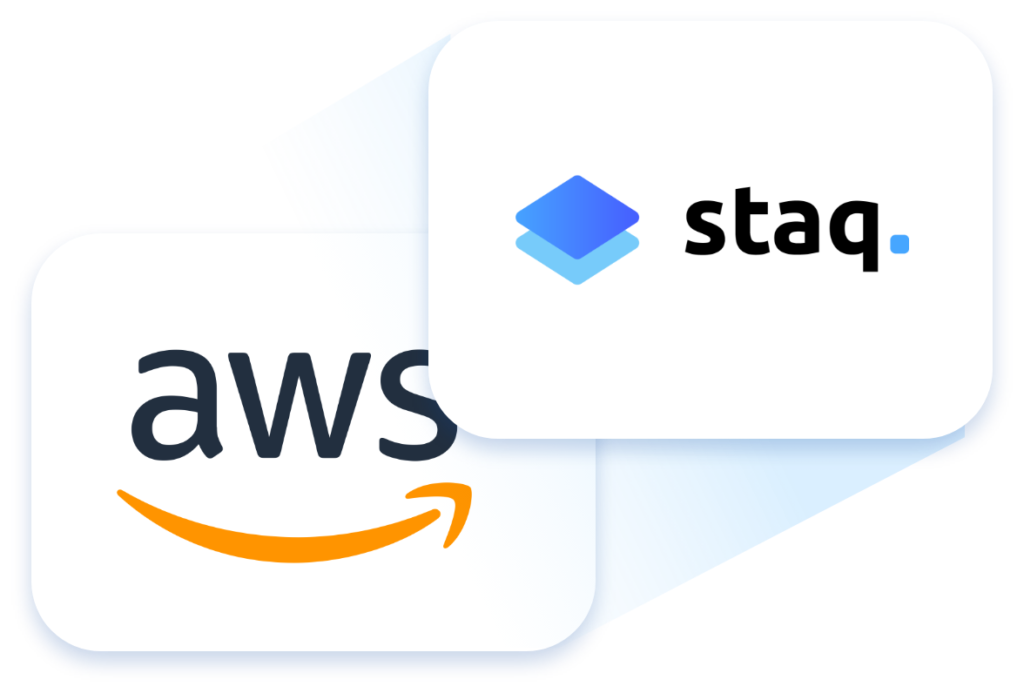 Security out of the box
Out of the box, Staq applies security from ModSecurity, Fail2Ban and further DDoS protection when you use Staq Next-Gen CDN via AWS Shield.
REPLACES: Cloudflare, iThemes Security, Wordfence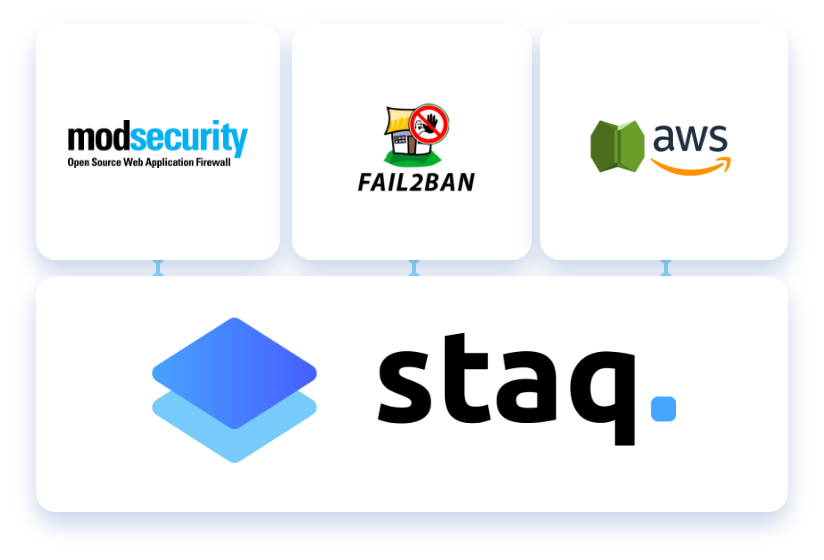 Security Headers taken care of
HTTP security headers are not only critical for security but also for SEO. Receive an out of the box score of A for security with securityheaders.com when your site is hosted with Staq.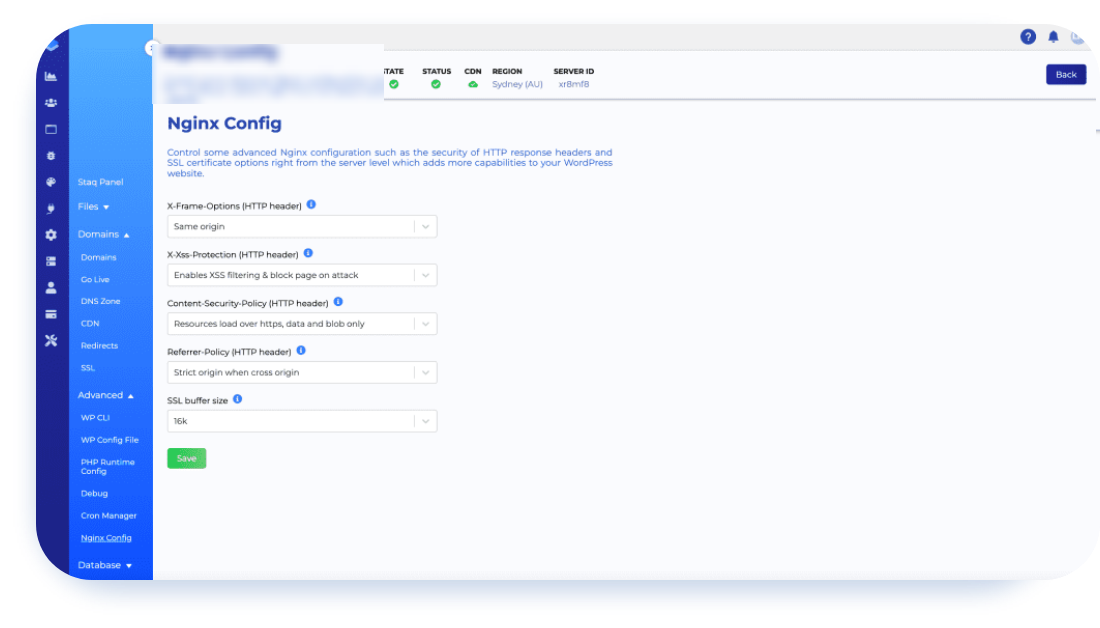 Automated Backups
Automated backups where we take database back ups every 6 hours, images, videos, files and amended plugins and themes are also backed up into AWS S3 buckets. Easy retrieval via a file manager solution and 1-click database restore function.
REPLACES: Updraft and etc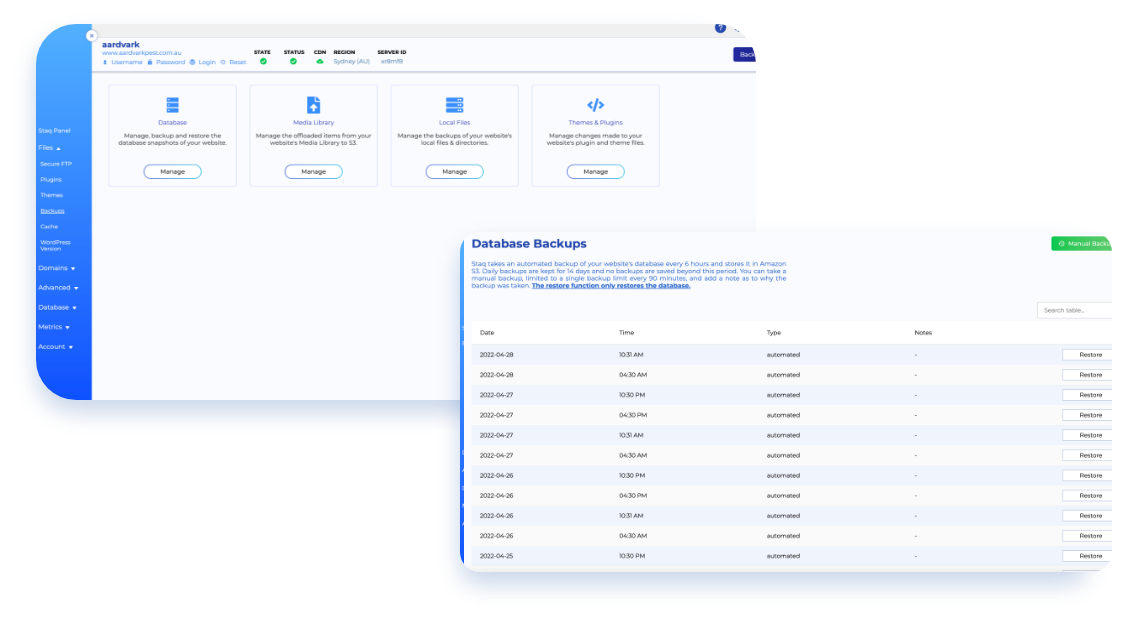 Self-Healing Technology
Server or website issues; if Staq identifies an issue, it has self-healing technology to handle NGINX errors.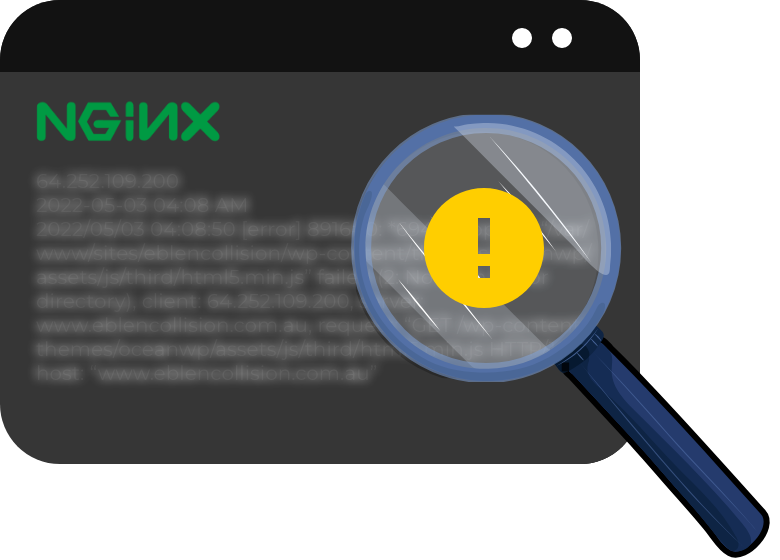 Custom Plans to charge hosting fees
One-click integration into Stripe, create your custom plans, assign to a client and Staq will issue a white-label invoice and charge your clients via your Stripe account each month.
REPLACES: Xero, Chargify , cPanel WHM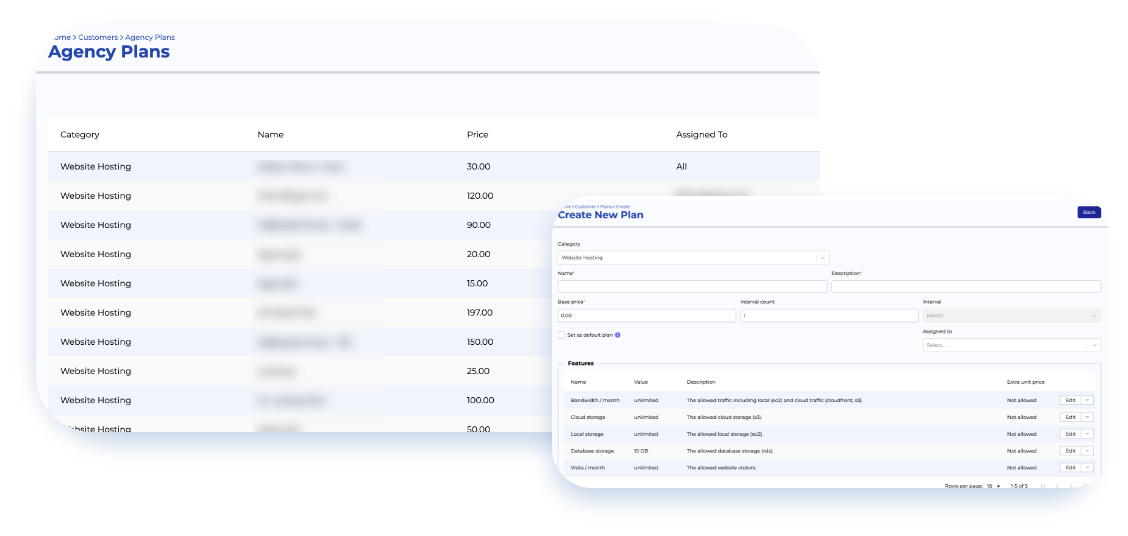 We have found Staq to be a game changer for hosting and managing WordPress sites. The platform makes account setup, launch, and plugin updates a breeze, while load times have also improved significantly. Their support is the best that we have encountered from any hosting provider. I highly recommend Staq for your WordPress hosting needs.
Nathan - Creative Serum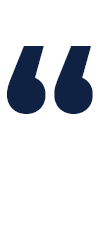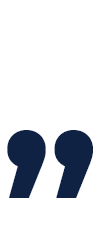 I've tried and tested almost every hosting service for wordpress available around the world. When I found Staq, I knew I had found the gold. Super fast, reliable, amazing support and cutting edge tech make it the best in the world in my opinion. If you're running WordPress, try it. You won't go back to another host
Jono F - EcomXSEO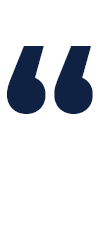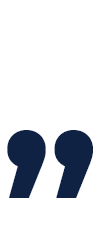 Our website design studio has been using Staq for about a year now and the entire process has been amazing. Our client's websites are running extremely fast and performing well across Google due to a heavily improved Google Pagespeed score. To top it off, there's that added piece of mind of the regular automated backups, high security, and the back end user interface being seamless for both us and the clients with consistent and reliable support for any question. I couldn't recommend Staq enough!
Terri - Clever Fox Creative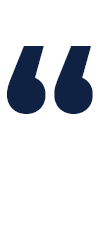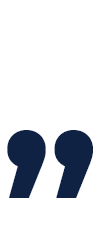 The ability to have an all-in-one solution for our websites, from building, to hosting and managing has not only allowed us to automatise some of our tasks but also to streamline our processes, allowing the team to undertake bigger, more complex projects.
Juan T - LINK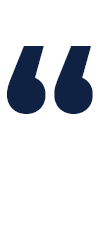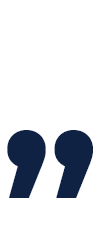 The team behind WP Staq has been great to work with and has been an integral part of our business' growth in the digital marketing game. We have seen a lot of progressive improvements from their initial launch of the platform and has since given us powerful tools to easily manage, monitor and continue to build an amazing ecosystem of websites for our clients.
Hazel A - LINK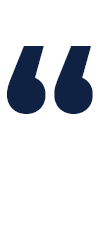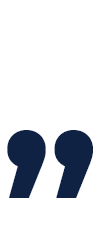 Staq has changed the way I do business with my clients. I now feel confident in offering my clients a premium WordPress hosting platform that is secure, robust and most importantly - provides my clients with optimal loading times. Staq is my number one go-to hosting platform as it's easy to navigate and use, and the support is excellent!
Michelle - Eye Dropper Designs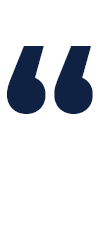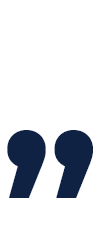 Making the switch to Staq was one of the best things our agency did. We refuse to work with any other hosting platform, based on the tools and efficiency Staq provides alone.
Lachlan - Yeah Marketing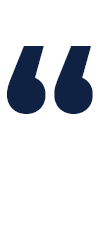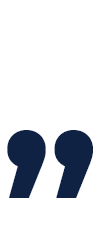 Since moving to Staq our client websites load faster, rank better in search results and are infinitely more stable than before
WebAdelaide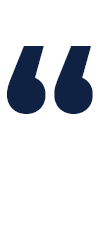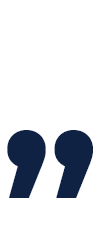 Transformation Case Studies
We'll Migrate Your
Agency For Free
Whether 1 or 1000 sites, Staq will seamlessly migrate your sites for you.
We'll plan a migration strategy to efficiently move your Agency to Staq.
It's time to transform agency, from site management to client billing,
and everything in between.
Ready to transform your agency?
We're here to help.
The Staq support team is ready when you need us.
Our team are senior WordPress experts.